Art
KS3 Art
(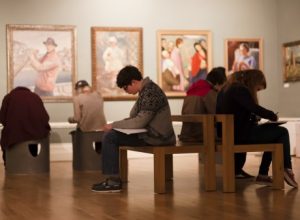 Current Academic Year)
In KS3 all students follow a rotational course with 4 modules of Design & Technology and 2 modules of Art & Design. Each module lasts approximately 6 weeks, with an average time span of 3 x 50 periods a week.
Year 7
(Work across both modules)
Lettering Design
Students research and investigate different lettering styles and experiment with their own designs, which are eventually developed into a painted nameplate for their KS3 Art Folders.
Colour Theory
Students investigate the basic concepts of colour theory, through construction of a Colour Wheel, to help with colour mixing and an awareness of Complementary Contrast.
Colour Mixing, Matching and Application
Students paint their previously designed nameplates, and then go on to work on a range of applied colour mixing and matching exercises.
Year 8
Landscapes Module
Students draw landscapes from observation and from imagination. They also investigate a range of artistic styles through looking at various contemporary or well known Cornish Landscape paintings, followed by a detailed colour study of one of these, about which they also make a critical analysis.
Their observed landscape drawings are developed into a relief print.
Cubism Module
Starting by looking at objects around them, students draw from still life and then modify their drawings by overlaying multiple viewpoints. As an introduction to working with clay, in 3 dimensions, shapes from these drawings are then transformed into an abstracted ceramic sculpture.
Year 9
(Work across both Modules)
The Cornish Hedge
Detailed Observed Drawing
Students make a near life sized tonal drawing from observation of a section of Cornish Hedge, investigating Depth, Texture, Tone, Pattern and Form.
Relief Printmaking
Students select a section of their drawing to develop into a set of Relief Prints. This process encourages further Investigation of Texture for Tone, enabling them to focus on these aspects in the original subject matter and to develop a more subtle appreciation of natural forms and surfaces. This informs a critical and practical study of the work of Andy Goldsworthy.
Abstract Painting
Focussing on the work of local artists Patrick Heron and Kurt Jackson, students learn how to give emotion and feeling to their work, through the use of colour and texture, transforming selected areas of their hedge drawings into an abstract painting, using powder paint techniques and experiments.
KS4 Art
Students who choose GCSE Art as an option in KS4 will be timetabled for 3 x 50 minute periods weekly, over 4 terms for Coursework and an additional 1 term (approx) for the Externally Set Assignment (exam). They will be expected to supplement this extensively, through work at home and in GCSE support sessions.
Full Course (Art and Design)
Most of these students will follow this broad, unendorsed syllabus as set by the Edexcel Exam board: Groups are swapped between 2 teachers, in order to widen the range of skills and experiences.
Coursework often begins with work on an Environmental theme, developed from the starting point provided by a visit to a local gallery or other place of interest. This is explored and expanded through work in a wide range of media (including various kinds of painting and drawing, photography, printmaking, mixed media, sculpture and ceramics) and through critical studies of relevant artists; eventually progressing to more figurative, often more personal, work inspired by looking into aspects of their own lives as well as Expressionism and other figurative / portrait art.
Short Course (Fine Art)
Only students who have arrived late in the course, have had extensive periods of absence or not completed sufficient Coursework, will be entered for this syllabus. It requires only half of the amount of Coursework (selected from the above full course) and is marked to exactly the same standard as the Full Course, but only carries half of the points.
Externally Set Assignment
This consists of approx 8 weeks of taught lesson time, with the usual surrounding time for self directed work, in response to a Theme which is presented at the beginning of January in the form of an Exam Paper. This work culminates in a 10 hour timed test, which is set as a record of student's ability to work to a timescale, but is marked together with the rest of the work produced during the ESA, not as a separate unit.
Skills and Assessment
The GCSE Art courses enable students to develop individual skills in visual awareness, communication, self expression and self direction, through work in a range of media, to fulfil Assessment Objectives which require (mainly but not entirely visual) research, documentation, experimentation, presentation, realisation of intent and an ability to analyse and connect their own work to that of other artists and cultures.