PARENT ALERT
We have been made aware of two social media platforms as follows:
'Omegle' which is a free online chat site where users can interact with strangers via video. This may be a potential safeguarding concern.
'Pantsing' where youngsters are pulling down trousers to expose pants.
At Mullion School we are committed to ensuring that Safeguarding is everyone's responsibility. 
If you have concerns about the welfare and safety of a young person contact us at school or phone the Multi-Agency Referral Unit on 0300 1231 116.
At Mullion School we work hard to ensure everyone's safety and are committed to working with a multitude of agencies to bring about positive outcomes.
Our Safeguarding Children's Partnership have put together this page on their website to support parents in keeping their children safe.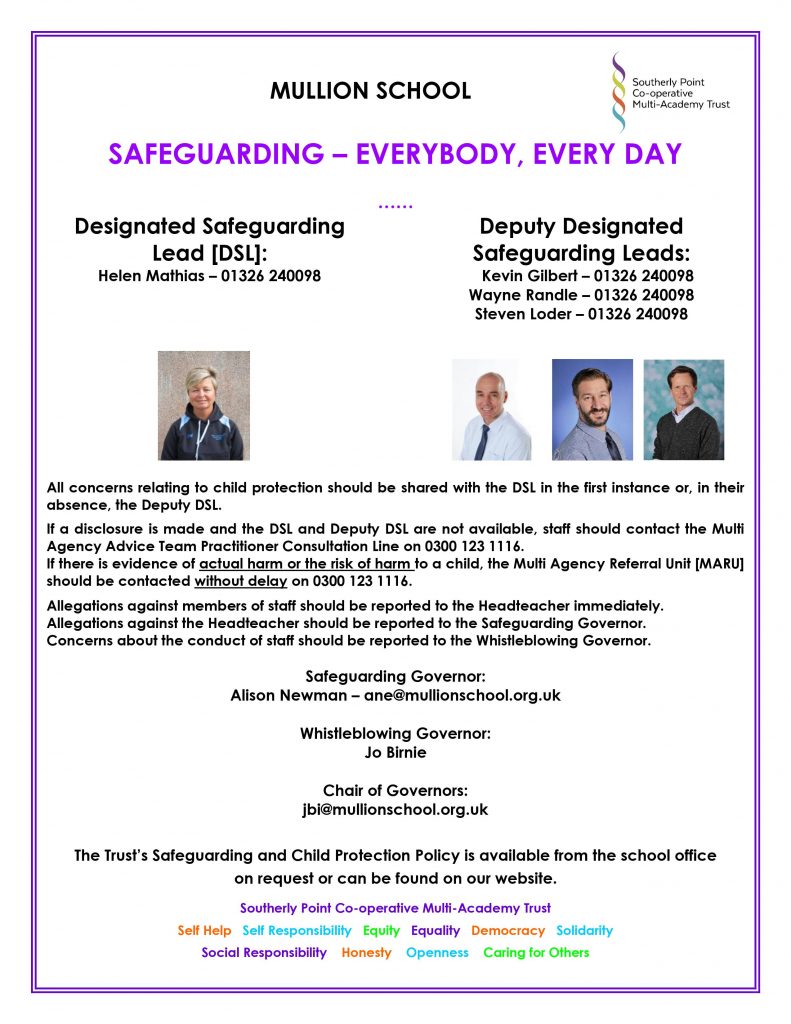 Everyone's Invited
You may be aware that the Secretary of State announced on 31st March that he has asked Ofsted to undertake a thematic review into sexual abuse across state and independent schools and colleges. Amongst other things the review will look at whether schools and colleges have appropriate processes in place to allow pupils to report concerns freely, knowing these will be taken seriously and dealt with swiftly and appropriately.
At Mullion School we take our safeguarding responsibility extremely seriously and this type of peer on peer abuse will be dealt with swiftly and appropriately should it arise in our school. We ensure that pupils' voices are heard and that they have a range of adults here that they can confide in, if necessary. We spend time through our PSHE/RSE curriculum and assembly themes ensuring that pupils know how to keep themselves and others safe and they know what to do if they have a concern.
I would like to take this opportunity to remind parents that the school's Safeguarding and Child Protection policy can be found on the school website. In addition, we have a Safeguarding page on our school website that provides information for parents/carers on a number of safeguarding issues.