Space Tourism from Cornish soil is GO!!!
The UK government, which has been mulling the idea of home spaceports for a decade now, has today updated the legislation that would make this possible, stating:
"There is a vibrant small satellite manufacturing sector in the UK, and enabling customers to launch their spacecraft locally should give an added boost to the industry."
Business Secretary Greg Clark will announce further details of government support at the biennial Farnborough Air Show today – Monday 16th July.
£2m, of the £50 million set aside for UK spaceport activities, is to come to Cornwall as part of a continued investment into the siting of a "horizontal launch" spaceport, to be developed at Newquay Airport.
This would see a modified aeroplane leave Newquay runways, climb to altitude somewhere out over the ocean and then release a rocket that can put the satellite in orbit. A number of such systems are presently in development.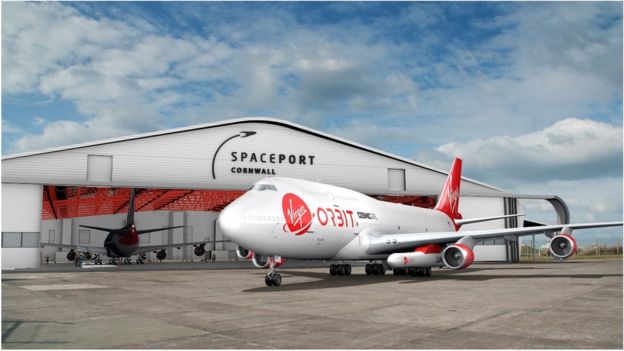 One making waves at the moment is owned by entrepreneur Sir Richard Branson. His Virgin Orbit company, based in Long Beach, California, has converted an old Virgin Atlantic 747 to dispense its LauncherOne rocket – a maiden flight for which is imminent.
Cornwall, in particular, is very keen to have Virgin Orbit operate out of Newquay airport. The council and the California company will sign a partnership agreement at the air show. A first mission is being targeted for 2021.
On the eve of the show, Mr Clark said: "The UK's thriving space industry, research community and aerospace supply chain put the UK in a leading position to develop both vertical and horizontal launch sites.
"This will build on our global reputation for manufacturing small satellites and help the whole country capitalise on the huge potential of the commercial space age."